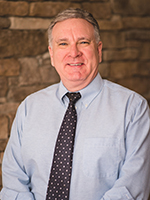 Newark Office
2100 Drummond Plaza
Bldg. 2
Newark DE 19711
Apply Now
For the past 30 years, I have been heavily invested in residential real estate. I have been a loan officer for 15 years, and prior to that I was a Realtor. I know how important finding the right home is, as I've been in the same one in Landenberg for over 30 years. I live with my wife who is an artist and my daughter who has a Masters Degree in Molecular Medicine. When I'm not assisting customers and friends with their home financing needs, I'm striving to improve at my favorite hobbies of racquetball and blues guitar playing.
Purchasing a new home is an exciting event, but intricate and often filled with challenges from contract to settlement. My goal is to help you navigate through the complexities with minimal disruption. I will be there for you through every step of the process including attending your closings.
I welcome the opportunity to assist you!