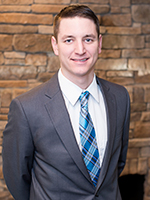 Patrick McRae
Mortgage Consultant
NMLS#:
1371733
(302) 892-2811 x155
(302) 287-5392
(302) 892-2606
pmcrae@pikecreekloans.com
Kirkwood Highway
1908A Kirkwood Highway
Newark DE 19711
Apply Now
I am a graduate of Goldey-Beacom College (Wilmington, DE). I recently completed my MBA in Marketing, graduating with high honors. My undergraduate degree, also at Goldey-Beacom (GBC), was in Business Administration. I attended GBC on a golf scholarship and went on to receive numerous athletic and academic awards over my career; including the prestigious All-America Scholar Athlete presented by Cleveland & Srixon Golf Coaches of America. I am relatively new to the mortgage industry; however, I've taken numerous steps to thoroughly understand the many intricacies of the mortgage process. I have been successful in working with each client to evaluate and select the best mortgage solution for their needs. I look forward to the opportunity to assist you.